One of the things I enjoy about this job is how much the kids teach you about teaching. I don't mean learning from experience; I mean when they come right out and tell you solutions that other teachers have used. One bouncy kid actually
asked
me to make him a behavior contract to sign, saying "It helps me behave."
At the beginning of the year many of my ADHD and/or extrabouncy kids told me that stress balls really help, so I went around looking for them (lately I haven't been thinking far enough ahead to order things online as I should). First I bought some squashy balls from Walgreens, but I'm on my second set now. If you want to do this in your classroom here are some things to consider.
1) Stress balls are something you'll see in stores occasionally, but its really hard to go looking for them. Order online, or look at Party City, where I found these balls (note to self: PC by JoAnn's, 5th aisle, halfway down on LHS):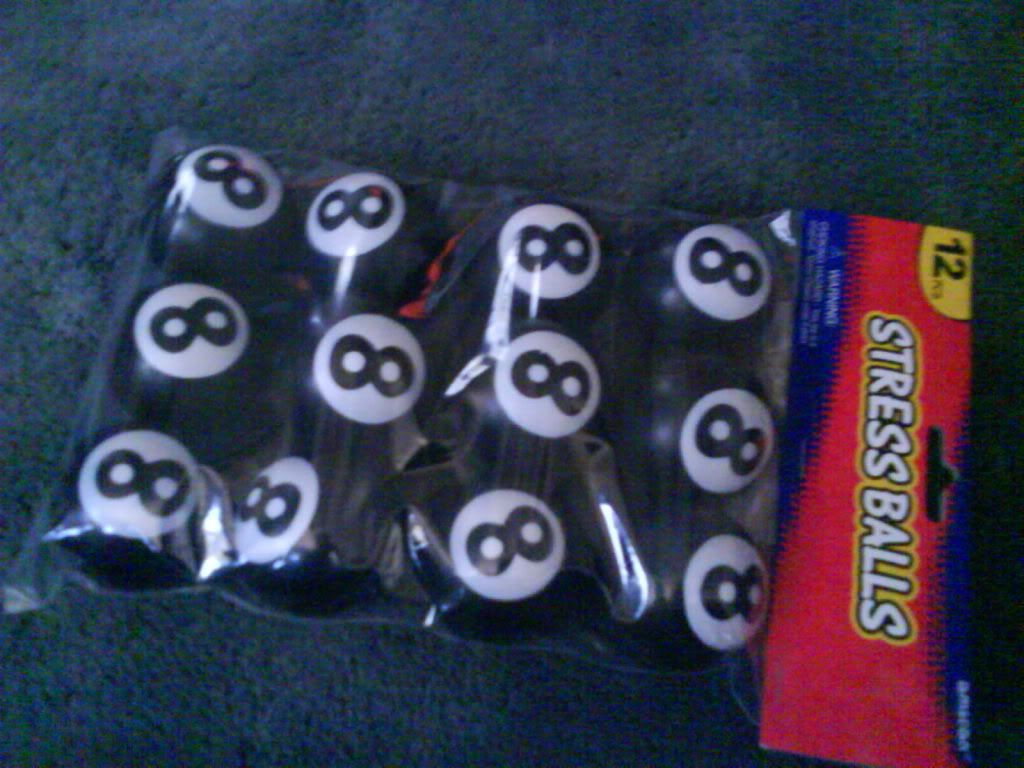 2) Get unpopular styles. My Walgreen balls were Disney themed - Cars, Toy Story, and Winnie-the-Pooh. They disappeared very quickly, with Cars going first, then Toy Story, and Winnie-the-Pooh balls getting stolen when I had a substitute. Party City had squashy sports balls but I've learned my lesson now.
3) Make sure they don't do any of the following things: bounce, make noise when squashed, make noise when rubbed against a smooth surface like a desk, come apart easily, or seem interesting in any way. I nearly bought some squashy balls before I realized they were the "inside-out" balls that can be turned inside out and stretched over the head, with gel spikes sticking out everywhere. Huge catastrophe averted!
4) Don't let them take them home. It seems obvious, but when a kid says "If this is only for me can I keep it in my backpack?" and you're in a hurry, don't say yes!
5) Either clean them every day or buy one per student. I will be labeling mine A-L and listing which kid can use each one.
6) Keep them in the front of the room. Even though its more disruptive, make the kids come up to the front to get them and put them away. Anything not tied down is fun to steal for those 1-2 immature kids per class.
Overall the kids are very grateful that you went out of the way to get stress balls for them, though at the beginning everyone will ask for one. I suggest making them come after school to ask for one, which is what I am going to do. That cuts down on kids that just want to waste class time.